Hamburg Messe und Congress (HMC) invests major amounts of time and energy to help exhibitors boost the impact of their business activities in other international markets. We have a wealth of resources to tap into, and our unrivalled expertise and experience in organising maritime trade fairs enables us to organise delegations, national pavillons and SMM events around the world.
The SMM team attends all major maritime trade fairs worldwide. Our role in supporting you is to provide all required services whenever you need them – from face-to-face consultation to support with your exhibition stand, travel information, accommodation advice, catalogue sales and tickets.
Whatever support you need, wherever you're based in the world – we'd be delighted to meet you.
For more information register your interest today and discover SMM and INMEX SMM India.
HMC has an experienced network of representatives in more than 40 countries around the globe. These partners provide information and advice on the HMC for exhibitors and visitors from all regions.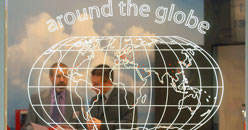 What would the #SMMfair be without its team? Behind the scenes, our colleagues are constantly working to create the perfect trade fair experience for you. Get to know a part of the team here!